Scallion cheese scones. Cheddar Cheese and Scallion Scones When most people think of scones, they think sweet: classic currant, cranberry-orange, offbeat chocolate chunk. But scones are just as delicious in savory versions, like this moist cheddar cheese and scallion version, perfect with your breakfast scrambled eggs. Making Cheese Scones with Scallions Whisk together flour, salt and baking powder in a large bowl.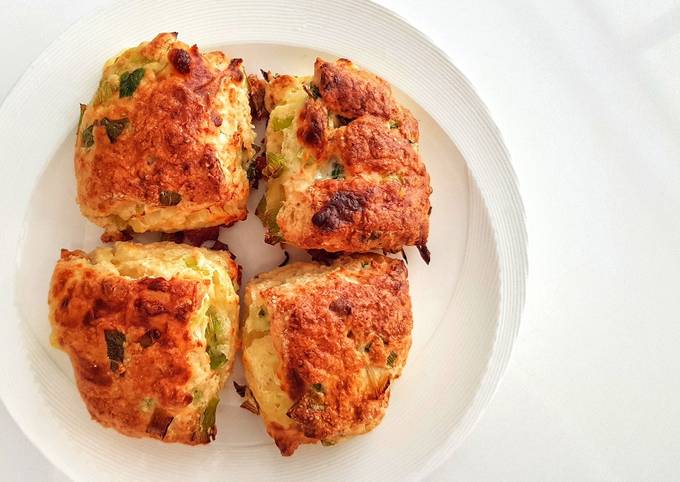 They're cheesey, they're oniony, what more could you want? Patrick's Day just around the corner, I was inspired to make a bread with deliciously tangy Irish Cheddar Cheese. Then chop the scallion into small pieces using both white and green parts. You can cook Scallion cheese scones using 9 ingredients and 8 steps. Here is how you achieve it.
Ingredients of Scallion cheese scones
You need 125 g of all-purpose flour.
Prepare 3 g of baking powder.
You need 1/2 tsp of salt.
You need 25 g of sugar.
Prepare 20 g of butter, cold.
Prepare 1 of small egg.
You need 20 g of milk.
You need 50 g of scallions.
You need 2 of cheddar cheese slices.
Set aside the cheese and the scallions. Coming in hot before a weekend full of brunching with these incredible Cheese and Scallion Scones! Maybe these are scones, maybe they are more like biscuits, but regardless, you need them in your life this weekend. Flaky dough stuffed to the brim with a variety of cheeses, scallions and black pepper… omg it's perfect.
Scallion cheese scones instructions
Chop the scallions and sliced cheese into small pieces..
On a dry pan, lightly sauté the chopped scallions on low heat, until it turns light brown. Transfer them to a plate and let it cool completely..
In a large bowl, sift flour, baking powder, salt, and sugar..
Dice the butter into small pieces. Make sure the butter is cold and firm, straight from the fridge..
In the bowl with the flour mixture, add the diced butter and, with your fingers, gently rub the butter with the flour mixture. They should not melt, but should be crumbled into a size of a grain and fully covered with flour..
Beat the egg and add half of the mixture into the bowl. Add scallions, milk, and cheese and mix it slightly but thoroughly with a fork. Once the dough starts to stick together, clump it into one large lump..
Cover the bowl with a plastic wrap and leave it in the fridge for at least an hour..
Cut the dough into 4 even pieces, and brush the top with the leftover beaten egg. Bake in the oven for about 20-25 minutes at 180 degrees celsius, until golden brown. Serve warm..
If you want, reserve a pinch or two of cheese to top the scones just before baking. Pour the egg and milk mixture into the bowl of dry ingredients. Stir them together until it forms a ball of dough. Fast forward a few weeks, my cheese is getting old! Here comes to the rescue, cheddar cheese and scallion scones.