Sweet and sour pork. In a large non-reactive bowl, combine soy, garlic, ginger, flour, and cornstarch. Season the pork generously with salt and pepper. Place the pork in the bowl and toss to cover.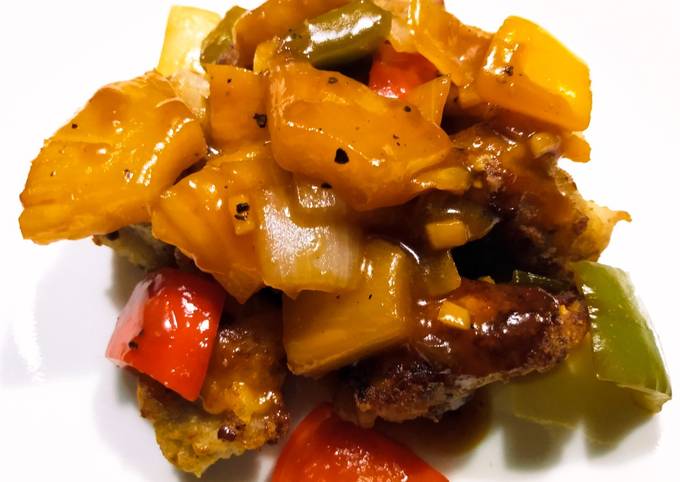 Stir pineapple juice mixture; add to skillet. Place the corn flour in a large bowl and toss the marinated pork chunks until liberally coated. Stir pork into batter until well coated. You can cook Sweet and sour pork using 14 ingredients and 4 steps. Here is how you cook it.
Ingredients of Sweet and sour pork
Prepare of all-purpose flour.
It's of + 1/2 tsp cornstarch.
It's of pork shoulder, deboned and cubed.
Prepare of onion, chopped.
You need of garlic, finely chopped.
It's of thumb-sized nub ginger, finely chopped.
Prepare of green onions, chopped.
You need of green bell pepper.
Prepare of sweet bell pepper (red, orange or yellow).
It's of rice wine vinegar.
You need of ketchup.
You need of soy sauce.
It's of sweet chili sauce.
Prepare of can pineapple chunks, including juice.
Bring to a boil, and stir in the cooked pork, celery mixture, and the pineapple chunks with juice. The best ever Sweet and Sour Pork recipe is loaded with tricks the Chinese have been using for centuries: double dredge and double fry for extra crispy, cornflour instead of flour, economical pork used for juiciness, but tenderised with baking soda so you'd swear they're pricey chops, and a sauce that's not sickeningly sweet. Add the onion, carrots, green pepper, garlic and ginger; saute until pork is tender. Sweet and sour pork is a classic Cantonese dish that Americans have fallen in love with, and put our own little spin on.
Sweet and sour pork step by step
In a bowl, mix together the flour, cornstarch, a large pinch of salt and several grinds of black pepper. Add the pork and toss until coated thoroughly. Set aside for 15 minutes..
Add a good glug of veg oil to a large nonstick pan on high heat. Shake any excess coating off the pork cubes and fry them for 6 to 8 minutes until cooked, dark brown, and crunchy. Remove the cubes to a paper-towel lined plate, and give them a light sprinkle of salt..
Add the onion, garlic, ginger, and green onion to the pan. Let fry 1 minute, then add the bell peppers and fry another 2 minutes..
Turn the pan down to medium. Add the rice vinegar, ketchup, soy, chili sauce, and pineapple juice to the pan and bring to a simmer. Stir in the pineapple chunks. Make a slurry from the remaining cornstarch plus a few tbsp water. Stir the slurry into the sauce and simmer 1 to 2 minutes until thickened. Plate the pork and pour the sauce over, or serve the sauce on the side..
Either way this recipe hits the flavors right on! Pork: I used a pork tenderloin, but you can use a pork butt or shoulder roast as well. You do not want super lean pork as it will result in tough chewy pieces of pork. Heat a separate pan then pour-in the sweet and sour sauce ingredients. Put-in the onions and bell pepper (green and red).