Creamy Tomato Soup.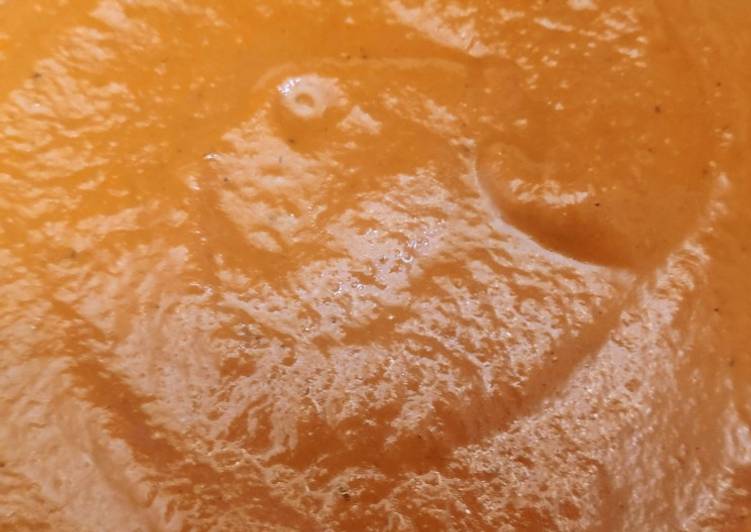 You can have Creamy Tomato Soup using 17 ingredients and 5 steps. Here is how you achieve it.
Ingredients of Creamy Tomato Soup
Prepare of Olive Oil Divided.
It's of Whole San Marzano Tomatoes.
It's of (@1.5 lbs) Ripe Fresh Tomatoes (I used Romas).
Prepare of Large Onion Divided.
You need of Garlic Divided.
It's of Chicken Broth.
It's of Heavy Whipping Cream.
Prepare of Fresh Basil Leaves (or 1-2 tsp Dried).
Prepare of Sugar or Coconut Sugar (Can omit if Tomatoes are Sweet).
Prepare of Dried Thyme Leaves.
It's of Red Pepper Flakes.
Prepare of Balsamic Vinegar.
It's of Salt (To Taste).
It's of Black Pepper (To Taste).
You need of Butter (Optional) (For Flavor, Richness, Creaminess).
It's of Freshly Grated Parmesan (Optional).
Prepare of Concentrated Tomato Paste (Optional).
Creamy Tomato Soup step by step
Preheat Oven to 425°.
Mix Fresh Roma Tomatoes (Halved Lengthwise), half of the Onion (1/2" Slices), 2 Cloves of Garlic (Whole or Halved), 2 Tbsp Olive Oil, Balsamic Vinegar, and Salt and Pepper on a baking sheet. Roast, in one even layer, for about 25 Minutes or until they develop color..
In a large soup pot, add the other 2 Tbsp Olive Oil. Add the other half of the Onion (Diced), the Thyme, Red Pepper Flakes, and a little salt, cook over Med Heat until soft and a golden color develops. Add other 2 Cloves Garlic (Minced), cook another 1 – 2 Minutes, stirring frequently..
Add the Canned San Marzano Tomatoes and Chicken Broth. Turn up heat to Med High, and bring to a boil. Reduce heat to Medium again, and simmer for about 20 Minutes. Tomatoes should be soft enough to start breaking down with fork. Add Basil, Sugar, and roasted Tomato/Garlic/Onions, simmer for another 5 – 10 Minutes. I like to squish the roasted garlic into a paste before I add it in. Remove Basil (If fresh), and season with Salt and Pepper to taste. Turn off heat..
Using a heat safe regular blender or an emersion blender, puree soup until smooth, then sift through a strainer. Add strained soup back to soup pot, and turn heat to Med. Simmer for a few minutes, then add the Heavy Whipping Cream. Add Parmesan, Butter, and Tomato Paste, if using. Taste for seasoning. Stir and serve..