Chicken Salad. Get Quick & Easy Chicken Breast Recipes Everyone Will Love From Hidden Valley®. Make Chicken Part Of Your Mealtime Go-To's With Hidden Valley® Ranch Chicken Recipes. A healthy and tasty chicken salad with a fruity twist – great on a croissant or in a honey pita.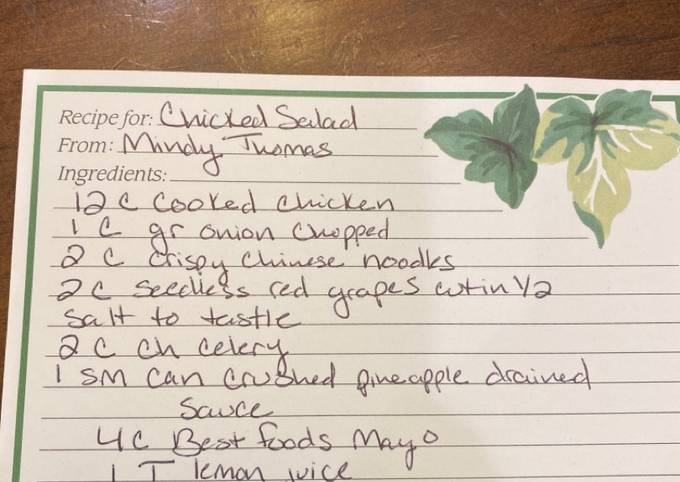 Put it on a roll, in a lettuce wrap or eat in with a handful of crackers. Regardless of how you choose to enjoy your chicken salad, you should be making it. In a medium bowl, mix together mayonnaise, lemon juice, and pepper. You can cook Chicken Salad using 9 ingredients and 2 steps. Here is how you achieve that.
Ingredients of Chicken Salad
You need of cooked chicken.
It's of chopped green onions.
You need of crispy Chinese noodles (chop these so you don't choke).
Prepare of red seedless grapes.
You need of Salt (to taste).
You need of chopped celery.
Prepare of small can of crushed pineapple (drained).
It's of Mayo.
Prepare of lemon juice.
Toss with chicken, almonds, and celery. Chicken salad is a quick and nutritious meal. A fantastic choice for lunch or dinner, you can serve it as a sandwich, wrap, or pita filling, or on top of crispy lettuce. Since the creamy salad is also an excellent use for leftover and rotisserie chicken, it's also perfect for those times when you want to keep cooking to a minimum.
Chicken Salad instructions
See photo.
Mix together and chill.
Toss together the chicken, celery, scallions, dill and parsley in a large bowl. Special Sesame Chicken Salad With its delicious mix of crunchy peanuts, tangy dried cranberries and mandarin oranges, this colorful Asian chicken salad is a definite crowd-pleaser. Water chestnuts and a teriyaki dressing give this main dish its Asian flare. —Carolee Ewell, Santaquin, Utah Poach chicken breasts, then shred the cooled meat to make this sweet-and-savory chicken salad. Mix mayonnaise, Dijon mustard, lemon juice, slivered almonds, canned mandarin orange segments, and celery with the shredded chicken, then stuff the mixture in pita pockets with lettuce leaves. Chicken Salad is like a box of chocolates.