Pineapple salsa. Combine pineapple, red onion, bell pepper, jalapeno pepper, cilantro, lime juice, garlic, sugar, and salt. Pineapple Salsa This mouthwatering salsa features fresh pineapple and a handful of seasonings. Season with cumin, salt, and pepper.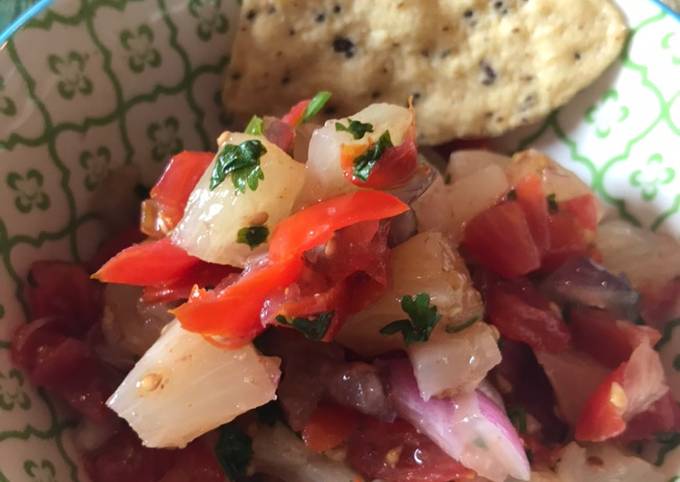 In a medium bowl, toss together the pineapple, onion and jalapeño, then add the lime juice and cilantro. Nothing screams summer quite like salsa made with both pineapple and watermelon. The secret ingredient is a dash of hot sauce, with its vinegary tang bringing out the sweetness of the fruits. You can cook Pineapple salsa using 8 ingredients and 1 steps. Here is how you cook that.
Ingredients of Pineapple salsa
Prepare of pineapple chunks, drained & chopped.
Prepare of container of cherry tomatoes chopped (or your favorite) you can use more or less your choice.
It's of Small red onion chopped.
It's of Cilantro I used half a bunch chopped (your choice on how much).
You need of cumin.
You need of Couple dashes of Chyanne pepper (depends on how hot you want)(because I can't use actual peppers).
You need of lemon juice (optional) at first too hot so I added it and a tad too sweet.
Prepare of I didn't use any salt and pepper (my choice).
Pineapple salsa is easy to make with basic fresh ingredients. Here's what you'll need from the store: Pineapple: Fresh ripe pineapple, not canned or frozen (they're way too watery). Red bell pepper: Bell pepper adds some extra crunch and complementary sweetness. Red onion: Onion's pungent, savory flavors balance out the sweetness of the pineapple and bell.
Pineapple salsa instructions
Mix and enjoy…
In a medium bowl, combine pineapple, red pepper, cilantro, red onion, jalapeno, garlic, and lime juice. Serve at room temperature or chilled. Pineapple Salsa is the most delicious juicy topping for tacos or the perfect tortilla chip dip… and it's so good you'll want to eat it with a spoon. Juicy chunks of pineapple, crunchy red bell pepper, red onion, and a touch of heat from jalapeno are the perfect combination. Dice enough of the pineapple chunks to make one cup of diced pineapple to be used for the salsa and save the rest for another use.