Easy Sugar-Free Banana Scones. I had a banana that was going brown and wanted to find a way to make it into something delicious for my kids. Once the scones are out of the oven, cover them with wrap and let them sit in the fridge overnight. Warm them up just before you eat them in morning and they'll taste delicious.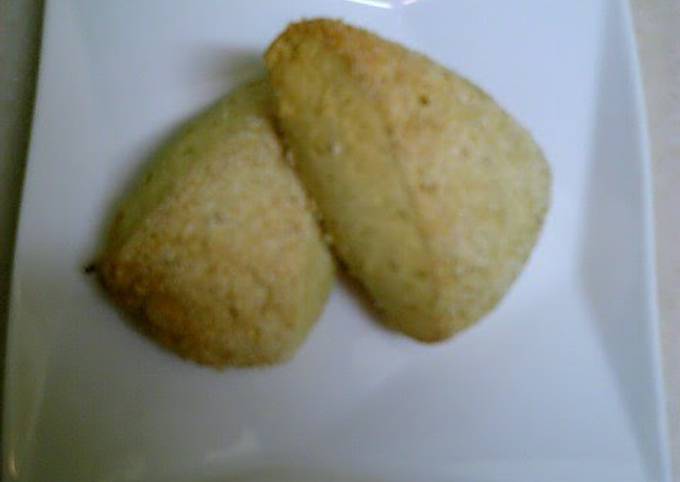 Cut into four sections with a knife and place each on baking sheet. Cool on wire rack or eat warm. Let cool for a few minutes and then transfer the scones to a wire rack. You can have Easy Sugar-Free Banana Scones using 2 ingredients and 4 steps. Here is how you cook it.
Ingredients of Easy Sugar-Free Banana Scones
Prepare of Banana (over-ripe).
It's of Pancake mix.
In a medium bowl, whisk together the flour, baking powder, cinnamon, and salt. Cut in the butter with a pastry cutter (highly recommended!) or the back of a fork until the mixture resembles fine crumbs. In a small bowl or liquid measuring cup, whisk together the cream (or buttermilk), mashed banana and vanilla extract. Add the wet ingredients to the flour mixture.
Easy Sugar-Free Banana Scones step by step
Add the banana to a bowl and mash it with a fork. Then, still using the fork, mix it together with the pancake mix until the dough comes together..
Continue to mix the dough until it becomes a little sticky, then turn it out onto a dusted surface and flatten it out into a circle with the palms of your hands (the dough should be about 5 cm thick). Cut the dough into 8 equal portions (as if you were cutting a cake) and bake them on a baking tray at 190°C for 15 minutes..
I tried adding walnuts to the scones on the left and chocolate chips to those on the right and cutting them into rectangles. It seems that this way is better for kids..
Cut the dough out with a star-shaped cutter and fry them for a banana donut-style finish!.
Stir with a fork or rubber spatula until it starts to come together and forms large clumps. Add the chocolate chips or chocolate chunks. You may notice there is a lot of baking powder for this recipe. Grate butter into flour mixture on the large holes of a box grater; use your fingers to work in butter (mixture should resemble coarse meal), then stir in raisins. Do not over mix or scones will be rock hard.