Potato Scone. Bring potatoes to a boil in a pot of lightly salted water. Directions In a bowl, combine the flour, baking powder and salt. Cut in butter until mixture resembles coarse crumbs.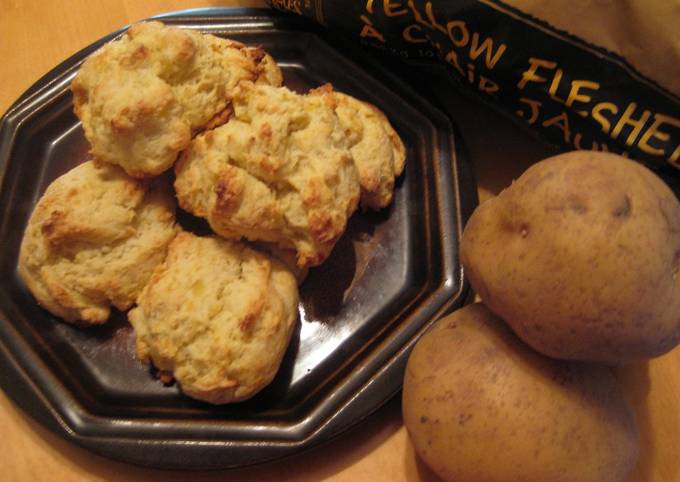 Drain the potatoes and mash them with the butter, salt, pepper and baking powder. Made using a classic recipe of mashed potatoes, flour and salt, fry them in the pan with your bacon, bangers and black pudding for a Scottish 'fry-up'. Shipped frozen, thaw what you need and keep the rest frozen until needed. You can cook Potato Scone using 7 ingredients and 10 steps. Here is how you achieve that.
Ingredients of Potato Scone
Prepare of INGREDIENTS for 6 Hot Biscuits.
Prepare 100 g of Flour.
It's 3 g of Baking Powder.
You need 10 g of Sugar.
You need 35 g of Butter (Salted).
Prepare 60 g of Milk (or cream).
You need 120 g of Potatoes.
No Scottish breakfast is complete without tattie scones (tattie is a familiar term for potatoes). These are not like traditional British scones, but more of a potato pancake, and often served with sausage and bread. They're sometimes called potato scones, and you may also hear them called fadge or potato bread in Ireland. Potato scones are traditionally served after a quick fry in bacon fat (use the same frying pan the bacon was cooked in) to reheat them with a full breakfast (eggs, bacon, fried tomatoes, etc.).
Potato Scone instructions
Operation Time / 20 min Oven Temperature / 400 F Baking Time / 25 min.
Preheat oven to 400F. Line a cookie sheet with parchment paper..
Peel the potatoes and cut into small pieces. Wrap in plastic and microwave until the potato pieces are soft enough to mash. Let cool and set aside until use..
Prepare a medium mixing bowl and a stick mixer with blade inserts..
Sift the flour and baking powder into the mixing bowl. Add the sugar..
Cut the butter into small squares and add to the bowl..
Using the stick mixer, mix to a texture of coarse crumbs (if you don't have a machine, you can use your fingertips)..
Move the mixture to a large mixing bowl. Add the mashed potatoes and milk to the dry mixture and use a rubber spatula to mix well. (Be careful not to mix too much)..
Divide the dough into 6 portions..
Place on prepared cookie sheet. Bake for 25 minutes or until the tops are lightly browned. Remove from oven and place on a wire rack..
I freeze in a single layer on a baking tray** and then place in a freezer bag for longterm storage. Basically they are made from mixing boiled, riced (or mashed) potatoes, a little butter, salt, and flour. These ingredients are combined to form a dough, then rolled out, and cooked on a griddle. You may hear them called "tattie scones" in Scotland, but they are one and the same, and here's how to make them. Mash potatoes well, add real butter and salt.